Funeral memory boards have become popular at a loved one's funeral because it's easy to tell their life story in pictures in one place. To start, you get a sheet of tagboard or cardboard and paint it any color you want. You gather images of the person whose funeral it is and put the pictures on the boards. You can add embellishments, names, frames, or do several boards for chronological life order, beginning with the deceased's childhood and moving to adolescence, adulthood, and their golden years.
You should also create a custom funeral memorial poster to go along with your home made photo collage.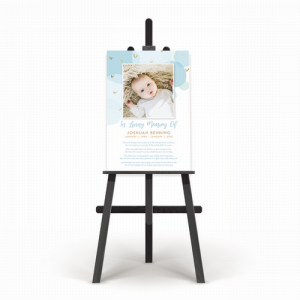 Whether you are making funeral memory boards or a memorial photo collage, these ideas should get you pointed in the right direction. It is impossible to do wrong by them because they are all touching tributes to someone who was loved in life, and will continue to be loved in death.
Be sure to take a look at our personalized memorial posters. These custom-made posters will pair perfectly with your photo memory boards and help ensure your loved one is remembered and cherished by friends and family.