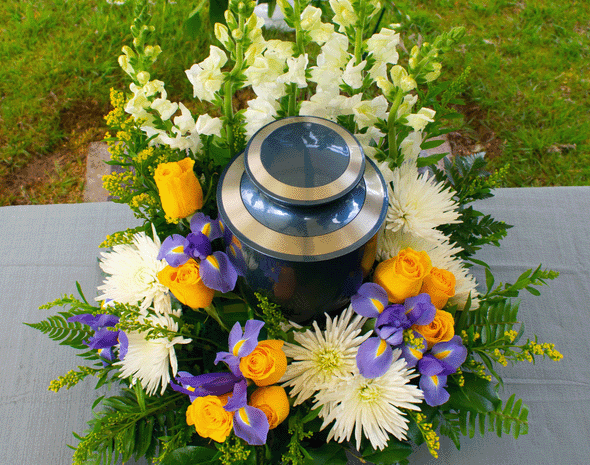 Remembering loved ones who have passed away is an important part of the grieving process. For those who choose cremation, memorial services provide an opportunity to honor the deceased while celebrating their life.

Read on as we explore a variety of creative cremation memorial service ideas, from traditional graveside services to unique alternatives outside the funeral home.


Best Cremation Memorial Ideas to Try
Here are the best cremation memorial service ideas you can try to ensure that your late loved ones get a befitting sendoff.
1. Urn Display Table Layout
Having the cremated remains present at the memorial service in a decorative urn is a popular option. Arranging the urn on a special table or pedestal allows guests to pay their respects. You can decorate the table with flowers, candles, photos of the loved one, or mementos representing their life and interests.

The urn can be the focal point, giving guests a place to leave written tributes or flower petals as they greet the family. Surrounding the urn with cherished items helps honor the person's memory in a meaningful, personalized way.
2. Spreading Ashes
For a more natural memorial, spreading a portion of the cremated remains in a special place that was meaningful to the loved one can be a touching tribute. This could be a favorite vacation spot, park, garden, or natural area. Encouraging guests to strew a few ashes also helps include them in the commemorative experience.

Providing small vials or pods of ashes for each guest allows them to keep a symbolic piece of the departed with them always. Guests can share photos and stories of spreading the ashes on social media to continue celebrating the person's life.
3. Order of Service
A memorial service program helps guide guests through the events of the service in a respectful, structured manner. It allows you to specify the order of speakers, share any details about the cremation or spreading of ashes, and select the music, slides and videos to be played.

It also helps acknowledge and honor the loved one's life and the profound impact they left on others. An order of service provides comfort by adding meaning and focus during what can be an emotional time.
4. Keepsakes for Guests
Giving small memorial tokens to service guests allows them to keep the sorrow and joy of remembrance with them always. Options include seeds or small trees to plant in remembrance, candles, photo frames, laminated sheets of memories or quotes, painted stones, or folded paper cranes or doves. Homemade or personalized keepsakes for guests created by friends and family help make the gifts more special and meaningful.
5. Keepsakes for Family Members
Close family members could find more significant memorials as treasured keepsakes of their loved one. This could include an urn necklace or pendant, a framed map showing places of importance, a shadow box display of special items, or a photo slideshow set to music. These types of personalized keepsakes for family members allow them to honor their beloved in a more permanent, displayable way in their homes.

Wrapping Up
Cremation allows families to pay respects to their loved one's memory in a more intimate, personalized way. A memorial service is a chance to celebrate the life of someone who has passed away and allow friends and family to come together to share memories and support each other.


Shop Memorial Bookmarks
The most important elements of any memorial service are bringing people together, celebrating the person's life, and providing comfort through fellowship. With cremation, families now have options to tailor a memorial to honor their loved one and meet their needs and preferences for how they grieve the loss of their cherished one.
Our memorial card artisans are eager to help you tell the story of your loved one.
Connect with our team 1-800-774-4313 8am - 10pm EST 7 days a week